THIS IS WHAT THE NUMBERS ARE TELLING US!
Happy New year! Hope you enjoyed your holidays and much-deserved break! As Silicon Valley starts to get back to its fast pace in the fast lane, our local real estate market is off to a fast start (it really may have barely slowed down this year!).
I know that numbers can be boring or you can be challenged by the numbers, however, if you are contemplating a real estate sale or purchase this year, then this may be relative to your desired goals and outcome.
The inventory of homes for sale continues to shrink as we continue to have less and fewer homes for sale, a major supply, and demand disaster. Last year at the beginning of 2017 we had 436 single family residences (SFR or houses) for sale and this year, we are starting the year at 258, the lowest I can remember in my 30-year career here in the Santa Clara County (SCC) area. Can you say "OUCH?"
The inventory of homes and condos continue to shrink as you can see from the graph here and the Days On Market (DOM) to sell is shrinking fast, meaning we are either selling homes quickly because of demand or there is far fewer homes to choose from.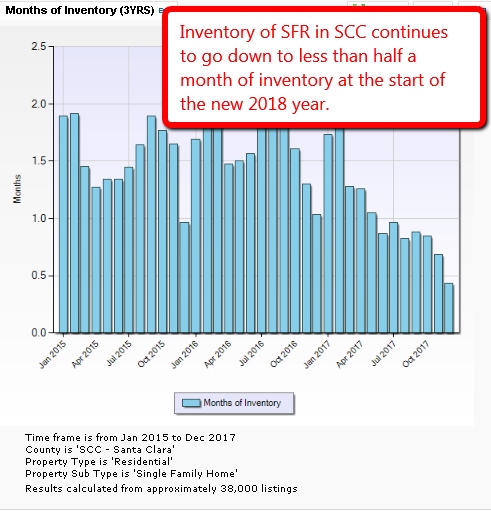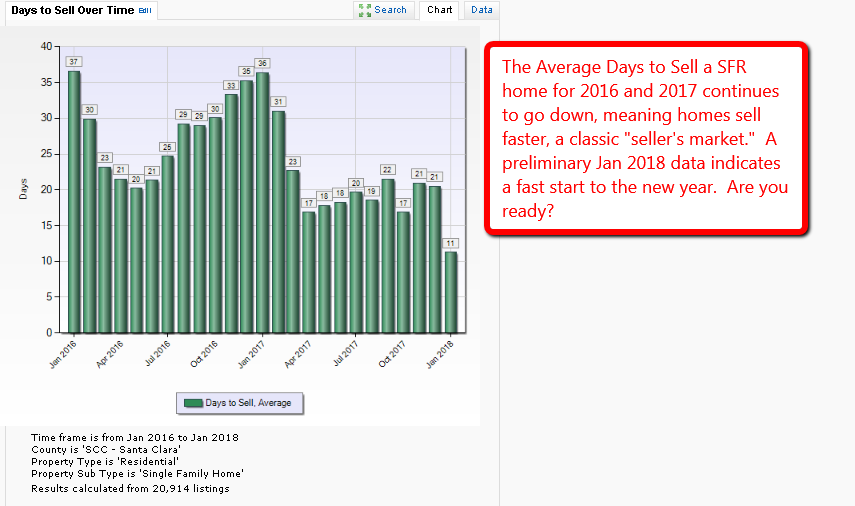 What are the most popular areas and communities? Virtually all the cities are pretty active and in demand as homes become more valuable and desired. The graph below shows that almost all communities barely one month of inventory in their areas. Click HERE to look for the most current Silicon Valley homes for sale.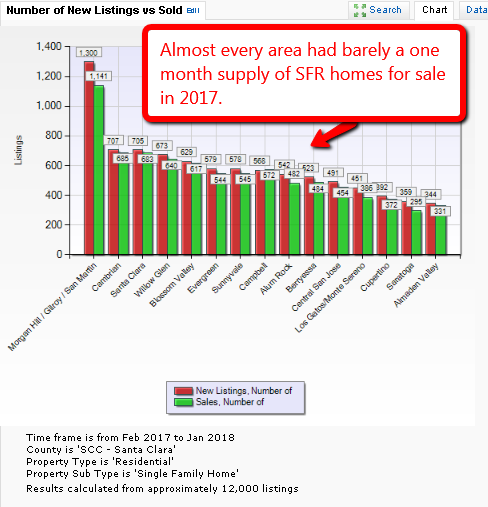 The average sales price for an SFR home is currently $1,439,073 and $785,669 condos/townhouses as of the end of 2017 in Santa Clara County. The MLSListings.com data shows that there were 10,850 homes and 3,960 condos sold and closed in 2017.
You may be wondering, what are the hottest, most active price ranges? Well, the most active by the numbers is the $800,000-$1,000,000 range with 2150 sales(20% of all SCC sales), followed by $600,000-$800,000 with1650 or 15% of all home sales, then the $1,200,000-$1,400,000 range with 1358 or 13% of all sales, and the $2,000,000-$3,000,000 range with -1297 or 12% of all sales. There are only 10 homes for sale under $600,000 in Santa Clara County and I don't believe they will last very much longer until we have a major economic correction. Are you surprised?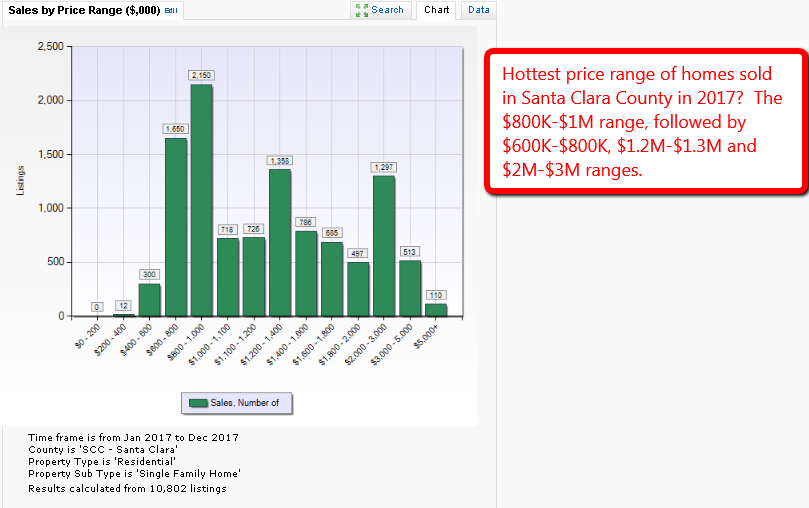 Speaking of corrections, as you may know, we here in Santa Clara County are way above the property pricing from the last correction in 2007-2008. Did you know that many state real estate values have still not come back from the peak values in 2006-2007? So where are our Silicon Valley real estate values headed in 2018 and beyond?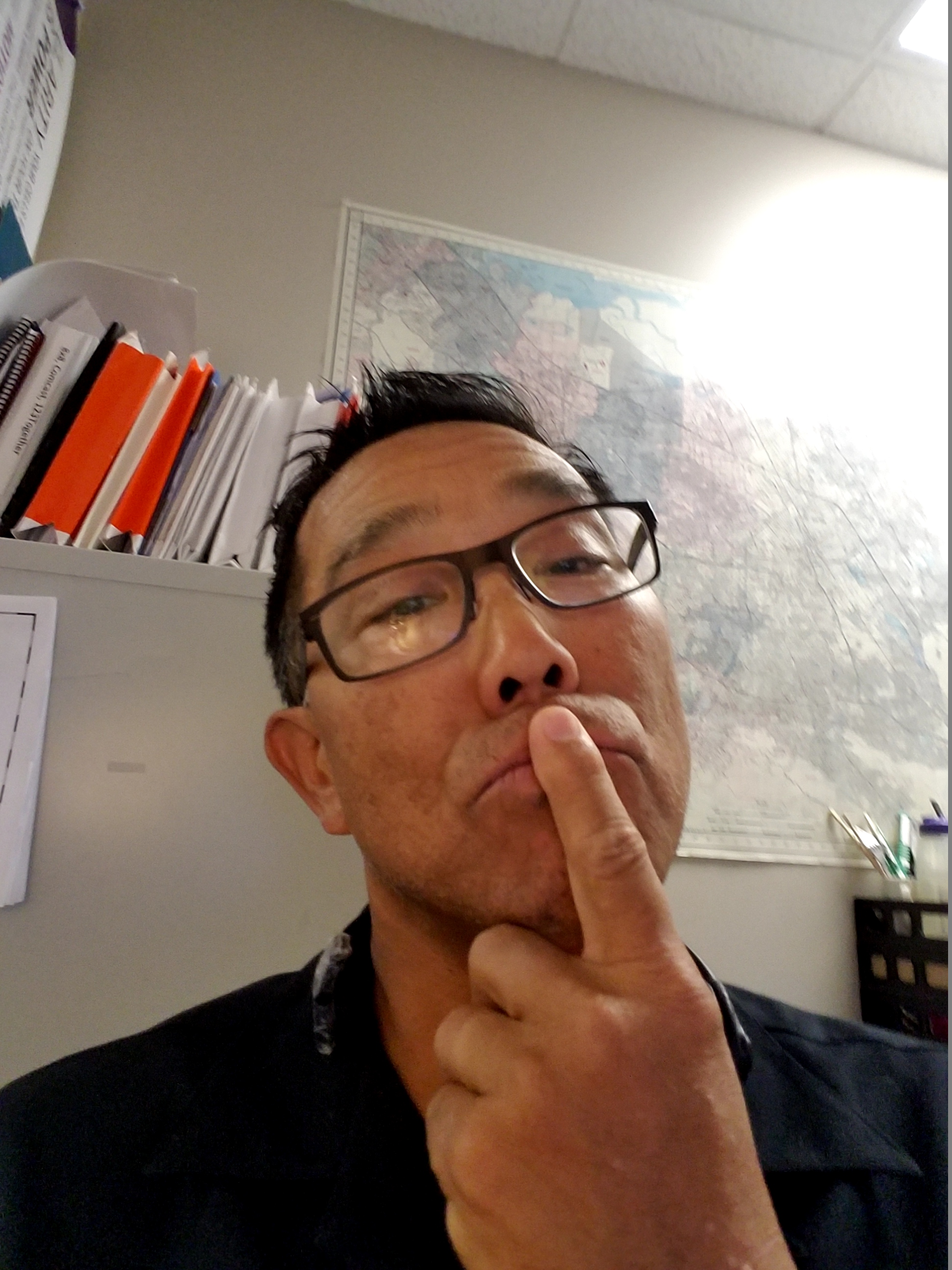 For me, my bet is that we will likely see more appreciation this year. Yes, we in California will have to deal with the new Tax Reform that will limit mortgage interest deductions to $750,000 max and property tax deductions to $10,000 and it remains to be seen what the aftermath of this new tax program will do for California and our real estate. Additionally, the Federal Reserve indicated that interest rates are expected to continue to rise. That said, I feel that with our Silicon Valley economy continues to thrive, and technology and consumer products appear to be in strong demand.
In my opinion, we have a housing shortage that can only keep values up. A new California Realtor sponsored initiative to allow retirees to sell their big houses and retain their tax basis is in the works and is a start, and you are asked to sign a so let me know if I can help. CLICK HERE to read an article on this. It can help and we still need to consider more housing programs. We need more intelligent planning to build quality homes and not just monster size apartments to ease the housing demand.
Finally, my prognosis is that values will continue to go up though perhaps not as aggressively as we saw in 2017, where the MLSListings.com data indicated a 12% rise in house prices and 7.8% rise in condo prices. As my clients often hear me say, unless we have a major political or global correction, alteration or altercation, Silicon Valley should see another year of appreciation in 2018. That's what I see and that's what the numbers are telling me. We shall see.
Real estate is still a good asset to own and a good part of most people's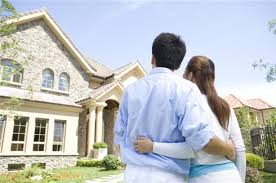 net worth. Young or... mature, you can still get a good home or investment, depending on your financial makeup. Be sure to talk to a tax or legal professional before you purchase or sell any real estate, especially with the new changes coming soon. Run the numbers and do your homework. Be clear what you want. And naturally, be sure to contact me for a free, no obligation consultation and see how you can benefit from the real estate market in the coming years.
Be sure to send me your comments and questions and I'll be glad to help.