Price Right—To Attract Buyers
Almost Every Seller Believes Their Home Should Command A High Price
It's only human to want the most money when we sell our homes. Some sellers believe that the price they financially need to get is the price the property will sell for. That's not what drives price and is a recipe for disappointment and a lengthy sales cycle.
The market drives the price. Market price is what a willing, ready and bank-qualified buyer will pay for a property and what a willing seller will accept for it. It's as simple as that. Without someone willing to pay your price, there will be no sale.
Think of pricing as a strategy designed to attract maximum interest and traffic. If a property initially hits the market overpriced, you won't get much interest. Lowering the price later just signals desperation and invites low offers. If it's initially priced too low, you will only attract lowball offers. Here's why your pricing is so important:
Pricing your property competitively will generate the most activity from agents and buyers.
Pricing your property too high may make it necessary to drop the price below market value to compete with new, well-priced listings.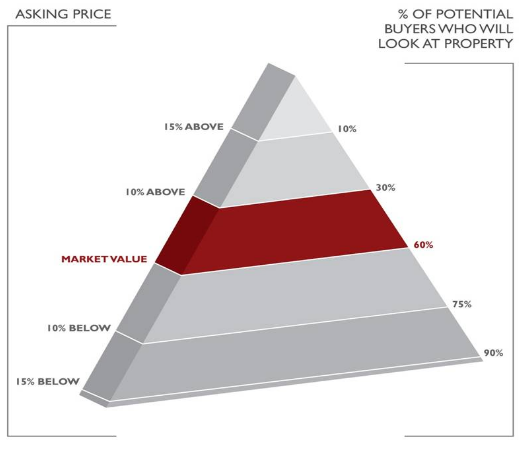 This image illustrates research done by Keller Williams. It shows the that the number of potential buyers who will look at your property is directly related to your pricing's relationship to market value. As you can see from the graphic, overpricing drastically reduces the exposure your home will receive. Of course, there are times and properties where pricing above or below market may be the best strategy. This depends on the property, the current market and your needs.
How Overpricing Hurts You As A Seller
What this image illustrates is something that every buyer operates by. Put yourself in the shoes of the buyer. Really pretend to be a buyer for a few minutes. Are you going to take time to go see overpriced properties? NO! You'll pass on them until the price comes down. Actually, it's highly unlikely that you'll ever go see them. Why is that? Think about what overpricing signals to the potential buyers. They're going to imagine a battle with you (the owner) to get the pricing down to market price. Overpricing is an obstacle to engaging the interest of buyers.
Price Competitively—The First 30 Days Are Critical
The Right Price Is Important
Here's another graphic that is a result of Keller William's research. What it shows is that the first 4-6 weeks is when the majority of offers are received. That's the time that your home is "fresh" on the market, and you're going to expect the most activity (open houses, private showings, agent inquiries). We want to work with you strategically to maximize that activity and have the greatest possibility of receiving offers during that time of freshness.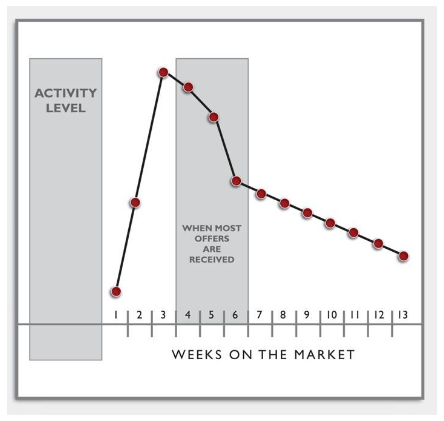 Let's look at a few of the things we can reasonably interpret from this graphic.
A property generates the most interest when it first hits the market.
After that, activity drops off sharply and interest wanes.
When seller and agent do not capitalize on that initial 4-6 week period, time on market can easily double (or more)
Though it's not directly illustrated in this graphic, here are a few other reasonable assumptions you can make.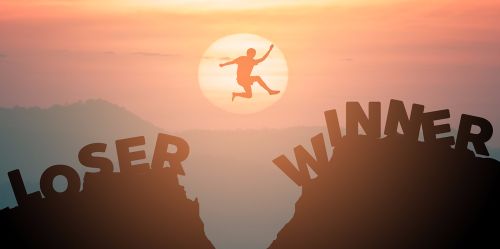 The number of showings is greatest during the initial 4-6 weeks if it is priced at a realistic market value.
Starting too high and dropping the price later misses the excitement and fails to generate strong activity.
Many homes that start high end up selling below market value.