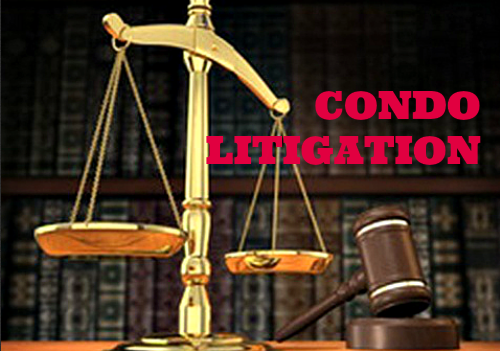 MY CONDO HAS LITIGATION!
If you are a seller or buyer, you may have heard this before! I am not an attorney, but based on my 30 years of experience, I find most condo litigation often happens most in the 8th to 10th year of a newer condo complex lifeline in CA as the law allows a complex and the homeowner association to sue the builder, developer and any other "big pocket, money bags" associated with the construction for any defect for repairs. This is a lot more common than you may realize so what can you do? If you've owned or purchased a condo with a lawsuit pending, you will know it can be a painful occurrence and materially affect your ability to sell or purchase. This article focuses on how it can affect the seller or buyer.
HOW IT AFFECTS A SELLER
If you are in litigation as a seller, more often than not, it is because your complex is less than 10 years old and the homeowner association is suing the contractor for construction defects. How does this affect the seller when selling?
The fact there is a lawsuit can scare a buyer off, wondering what "construction defects" could affect their new home after the closing. Being in litigation can have a material effect on buyers as most lenders may require that a buyer put in a larger down payment, typically 20% or greater. A lawsuit will eliminate many buyers who have less than 10-20% down, lowering the number of buyers interested to purchase the home. Sellers are required to disclose all material facts that can affect the use or value of the unit, which can be a challenge. Be aware of your disclosure laws, the newsletters and board of director meeting minutes you receive.
I personally have been a buyer's agent in a transaction where there was a lawsuit being settled but they could not disclose what the construction defects are, how much was the agreed dollar amount and the remedy other than "the final payment would complete and finalize the settlement." The buyer has to have faith, often "blind faith" to accept the complex and finalize the purchase. With fewer buyers able to buy, likely the seller will have less offers and the price may not go up as high.
When you have a lawsuit, it will be a real problem if the market is slow and prices are coming down due to a weak market, high-interest rates or a weak economy, among others. It is less problematic to the seller when we have a hot market. In fact, a strong market (where properties sell quickly) is often thought of as a good time to sell your properties that have issues, like being in a lawsuit, near a freeway, train tracks, flight path or is a major fixer upper, to name a few. The seller may have to sweeten the pot to sell a condo in litigation.
Is it right that the condo association and board of directors can prohibit a disclosure as a part of the settlement? Be sure to talk to your real estate attorney specialist, especially if you are on the board, had a unit that was damaged or know someone that is.
A lawsuit will reduce the number of lenders willing to take the risk and lend or refinance a loan in the complex. The owner may be stuck on hold for up to five years as a lawsuit gets settled.
What happens if the unit is one that has obvious damage? It can be costly to the owner as well as dealing with the bureaucracy of managing the lawsuit and repairs.
HOW IT AFFECTS A BUYER
How does litigation affect a buyer? Many buyers may be fearful about the lawsuit if there is mention of an "alleged construction defect," and shy away from making an offer let alone purchasing the condo. In a slow or balanced market, the buyer won't buy that condo. In a hot market, they often have to bear the majority of the risk of any issues related to this property.
Buyers must read all disclosures and reports. Make sure you understand what you are getting into. Make sure all your questions and concerns are answered. Your agent should be able to provide ideas or recommend solutions and consider your legal options in this legal matter.
The buyer will have to come up with a bigger down payment, typically 20% or greater. Whether buying or selling, the lenders will want to see the most current litigation documents or reports before providing a loan. Believe it or not, there are lenders and funding sources that only specialize in funding litigated complexes... and most lenders at this time will not lend when this problem is at hand. It is important to know this in advance because you don't want to invest all the time and money only to find out you can't do the deal.
The litigated transaction can take longer than a traditional one without a lawsuit. In Santa Clara County, the average sale takes around 30-40 days at this time and is often less as we have a very fast market appreciating 10-20% per year recently.
I often see less experienced agents submitting an offer not knowing how the offer affects the buyer's ability to buy. They say " no problem" to the required timeline and time period to remove the contingencies and then realize getting a loan on a litigated complex is not that easy sometimes. Frankly, I see this happen more often than I care to imagine.
In a hot market like Silicon Valley has experienced for the past decade, buyers are willing to purchase and deal with the consequences because they know if they do not buy now, it will continue to be a higher price in the months to follow. Many buyers will simply get outpriced in the market, then the only solution is to drive out farther away from the main hub of community or work... OR ... they will have to downsize their real estate wants and needs (think bedrooms, bathrooms, square feet, school districts, etc.) to find a home that meets their budget.
Today's real estate market is hot, there is a low number of homes for sale and high buyer demand, so this often forces buyers to accept a condo in litigation. From my 30+ years of experience, the condo purchase prices will still go up because of the scarcity of condos for sale but it will be a lower price than if there were no litigation involved. That said, I recently sold a San Jose condo with litigation listed for $669,950 that sold fast for $742,000 with multiple offers and minimal contingencies, or conditions to buy the condo, and this is commonplace in a hot market... and can be worth it to the buyers because time heals.
TIME HEALS...
Time heals in a good, high-in-demand real estate like we have here in Silicon Valley and the Bay Area. It is common that a condo value is suppressed compared to the open real estate market when in litigation. It is often a great time to buy before the litigation is resolved and closed and then the condo will appreciate after the construction defect repairs are done. It is a great time to refinance after the litigation is finished because you often have easier guidelines and qualifications. Often, I see sellers waiting til after the litigation is over to refinance, build equity, and sell when there are less impediments to sell.
A litigated condo can be a more challenging transaction. Whether you are buying or selling, it makes sense to talk to a great Realtor and lender to make sure you know what your best options are and who can provide you guidance, negotiation savvy, and successful sales results. Not all Realtors are created equal. How do you know you have the right agent? I will get into that in another blog.
There are many factors involved in a litigated condo sale so be sure to do your homework before you make your move. Buying or selling can be a good move, AND there are plenty of pros and cons. Be sure to discuss this with your real estate and legal professionals. Leave a comment or questions below and feel free to contact me if you'd like to discuss this in private. James Endo, Broker Associate, 408-560-9021